This is a game I discovered only three weeks ago, but which has been out since 2017.
Everspace.
Basically, it's a simple space-shooter. You fly a fighter around and blow stuff up and collect resources. You progress from map to map, each map getting more difficult than the last. Pretty simple, huh?
Well... not really!
It is very difficult for me to get engrossed in games these days. I just lose interest in playing them pretty quickly, there not being much to them that holds my interest. There have been so many games that I've bought, that I quickly got a sense of ennui with and just stopped playing them, sometimes even wishing I hadn't bought them. The list of games like this for me, is a very long one. I got to the point for a while, even, that I just stopped buying new games all together. Just one more corporate cookie cutout to make money but will have squat for substance. Not something I was interested n spending my money on.
But then I discovered this game.
It's by this little studio I'd never heard of before.
Rockfish Games
. Read up on them. They have a pretty fascinating story.
Everspace.
You start out with a basic fighter. You can choose the difficulty you want to play, then you're off. You get introduced to how the game is played by your AI companion.
HIVE
. Heh, don't ask me what it stands for.
Then, you get quickly blown up.
And then get blown up again. And then again!
Yeah! The game is tough!
But!
Every time you get blown up, you get sent back to your hanger. In your hangar, a brand new fighter is waiting for you. What's more, any credits you got before you got blown up in your last outing, you get to spend beefing up your new fighter before you go out again!
Yep!
The premise is that you're an endless litany of clones. If you die, you get to start over again, all fresh and new, with whatever credits your last clone got in his run. Then, after your sixth or seventh outing (maybe less if you have some skill for the game), you're breezing through the first maps, and then pushing further than you did the last time you were out.
Daryn called the game style '
Rogue-Like
'. I'll take his word for it, as it's a term I haven't ever heard before I started playing this game.
Anyway! With your credits, you get to buy things like tougher armor, more hull hitpoints, more speed, better mapping, better repair, and all sorts of other stuff - all of it meant to beef you up for your next run. The more you earn on your previous run, the more you can beef things up. It's kind of like a geometric-progression thing. The better you get, the more rewarded you get. And the more rewarded you get, the further you can progress through the game.
This is because it all stacks. Yep! You build on whatever upgrades you bought from all of your previous runs. So by the time you're on your ninth or tenth run, you're an absolute hardballer for the enemies to deal with!
But! That is only the
start
of it!
The real beauty of this game, is just how beautiful it is! Absolutely striking visuals make this game really stand out. Check it out:
file-d11043c50c15f9e700.jpg
Massive asteroid fields. Nebulas. Striking ringed planets! It is all movie quality, too. Some of the areas you play in are just totally breathtaking.
But it doesn't quite end there, either!
You ever heard the phrase, '
Easy to play but difficult to master
'? Well, this game is like that. Your fighter is extremely easy to control. It doesn't try to force you into real space physics, but gives you something more like 'movie physics' for how your fighter is controlled. You take your fingers off the controls? You come to a stop. You do a tumble-around? Cool? Stop tumbling and your fighter comes to a nice smooth halt all by itself.
This game is more about immersion in the fun of exploring and blowing stuff up, than it is with niggling you with too many details. And of course, blowing your mind with incredible visuals.
I can't say it enough, or loudly enough. This game is a discovery. It's beautiful. It's fun to play. It is just plain enjoyable.
Oh! One other thing. The game engine uses a random map-generator. So when you go back out, you're never playing the same map or set of maps again. Each outing keeps you guessing. It keeps you on your toes. It makes you, heh, wonder what might be lurking behind that next big gas cloud or asteroid. Or when a squadron of enemy fighters or drones might jump in out of nowhere and start trying to cram missiles up your proverbial tailhole!
God, it's fun!
Do yourselves the favor and try this game for yourselves. Like I say, it is very difficult for me to become immersed in a game. Well, I haven't been this immersed in a game since DooM. And that's saying something. Games are extremely difficult for me to get into. But this one? Oh yeah. Probably 30 hours I've got in it so far. And counting!
You
so
need to give Everspace a go!
Edit in:
Here's a video review of the game: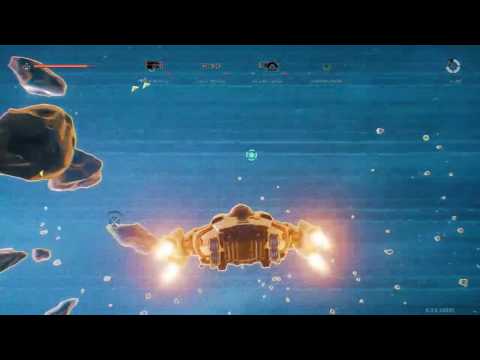 Important note: the additional content promised by the developer is out now. It's DLC. I got it for like, $5. But so worth it.
Another edit:
Here's some gameplay tips: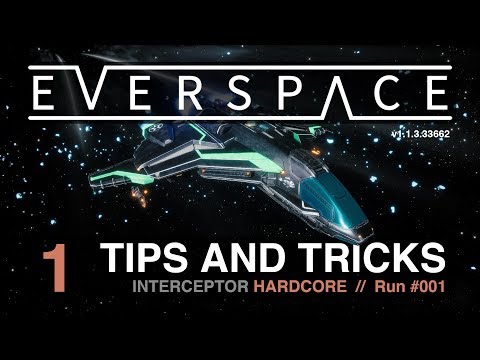 And a tutorial for play: